YCNBot Collaboration with Travers Smith
Supporting safe and compliant deployments of ChatGPT in law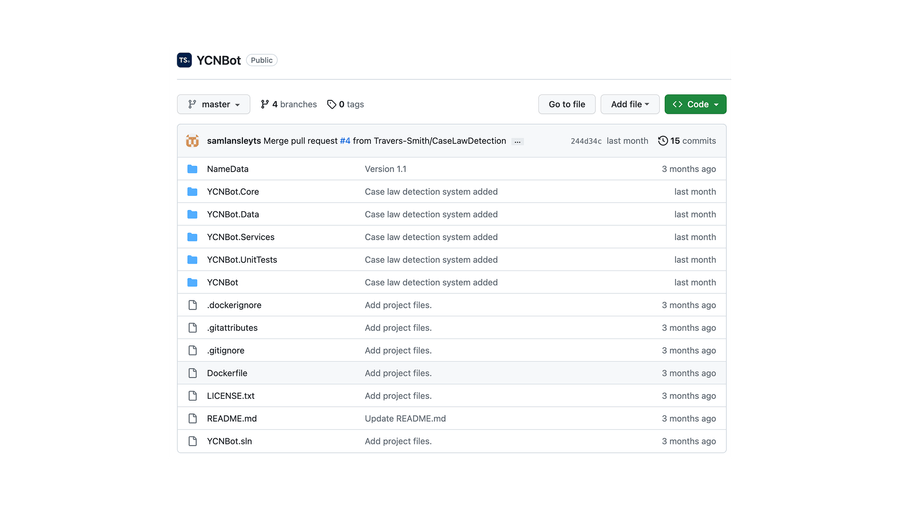 FOR IMMEDIATE RELEASE
Chicago, IL - May 24, 2023
273 Ventures, a leading provider of strategic and technical expertise in the realm of legal technology and AI, is proud to announce its collaboration with Travers Smith on the launch of their latest open-source project, YCNBot.
273 Ventures brings over three decades of experience in the legal technology industry, including significant contributions to the design and implementation of cutting-edge AI solutions. Leveraging this wealth of experience, 273 Ventures partnered with Travers Smith's Legal Technology team to develop YCNBot, a platform designed to enable the safe and compliant deployment of ChatGPT and related large language model technology.
"We are thrilled to have worked with Travers Smith on the creation of YCNBot. This technology sets a new standard for the secure use of AI in legal services, underscoring the critical importance of data privacy and compliance in this rapidly evolving field," says Michael Bommarito, CEO of 273 Ventures.
As part of the collaboration, 273 Ventures, led by Mike Bommarito and Dan Katz, provided guidance and support to Travers Smith, harnessing their unique experience in legal AI and technology. "Our expertise in AI and legal technology, combined with Travers Smith's innovative spirit, has led to the creation of a powerful tool. YCNBot exemplifies the potential for AI to revolutionize the legal industry," adds Dan Katz, CSO of 273 Ventures.
273 Ventures is committed to support Travers Smith's ongoing development and enhancement of YCNBot, ensuring it continues to meet the changing needs and regulations of the legal services sector.
ABOUT 273 VENTURES
273 Ventures is a premier advisor in legal technology and AI. With a team of experienced technologists and legal professionals, 273 Ventures helps law firms, legal departments, and legal technology companies navigate the complex landscape of legal technology, providing strategic guidance, training, and solutions to meet their unique needs.
For press inquiries: hello@273ventures.com