Collaboration with SALI for AI-Enabled Data
Reducing the cost of SALI standard adoption with GPT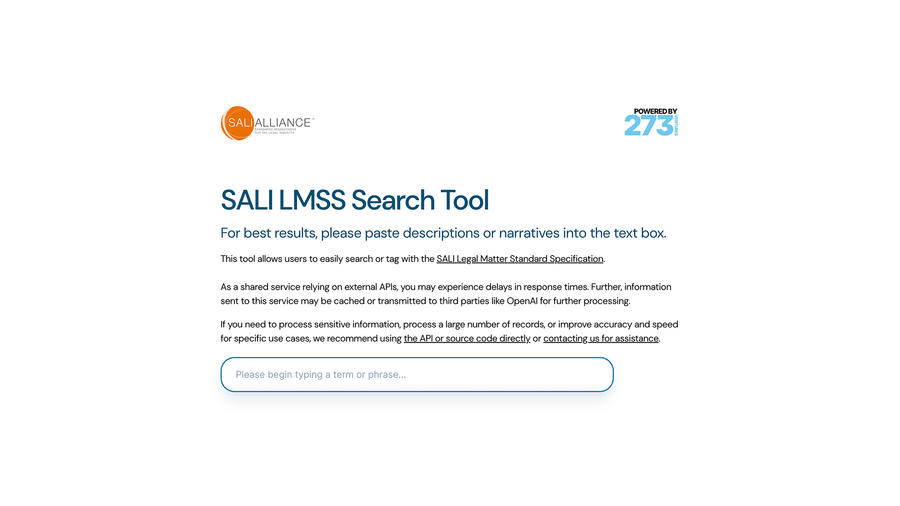 FOR IMMEDIATE RELEASE
Chicago, IL - March 21, 2023
The experienced and interdisciplinary team at 273 Ventures is delighted to announce its collaborative engagement with the Standards for the Legal Industry (SALI) Alliance in their most recent endeavor to simplify legal data standards adoption through AI technology.
SALI, known for its groundbreaking work in creating the Legal Matter Standard Specification, a universal tag set for the legal industry, revealed this week the launch of an AI-powered tool, designed to expedite the application of these LMSS tags. This tool allows users to standardize the descriptions of legal tasks, matters, and practice areas. The tool integrates the latest GPT-3.5 and GPT-4 AI models, empowering legal professionals to "speak the same data language".
273 Ventures, boasting an impressive track record in the legal technology sector, supported the strategic direction and technical implementation of the advanced AI model incorporation. With its unique 360° perspective gained from decades in the legal technology industry, 273 Ventures understands the challenges that law firms and legal departments face when dealing with data standardization and was perfectly positioned to assist SALI in leveraging AI for this purpose.
Mike Bommarito, CEO of 273 Ventures, stated, "Collaborating with SALI is an exciting opportunity for us to harness the transformative power of AI in streamlining and improving legal data management. The integration of advanced GPT models will significantly reduce the time and effort previously required for SALI tagging, promoting efficiency and accuracy on an unprecedented scale."
The strategic and technical expertise provided by 273 Ventures continues to drive innovation within the legal industry, as we anticipate the extensive impact of this tool on the standardization of legal data worldwide. Our commitment remains to offer cutting-edge legal technology solutions that empower law firms, legal departments, and legal service providers to thrive in the digital age.
ABOUT 273 VENTURES
273 Ventures is a premier advisor in legal technology and AI. With a team of experienced technologists and legal professionals, 273 Ventures helps law firms, legal departments, and legal technology companies navigate the complex landscape of legal technology, providing strategic guidance, training, and solutions to meet their unique needs.
For press inquiries: hello@273ventures.com