273 Publishes Groundbreaking GPT-4 Bar Exam Study
Collaboration with OpenAI and Casetext to evaluate GPT-4's performance on the UBE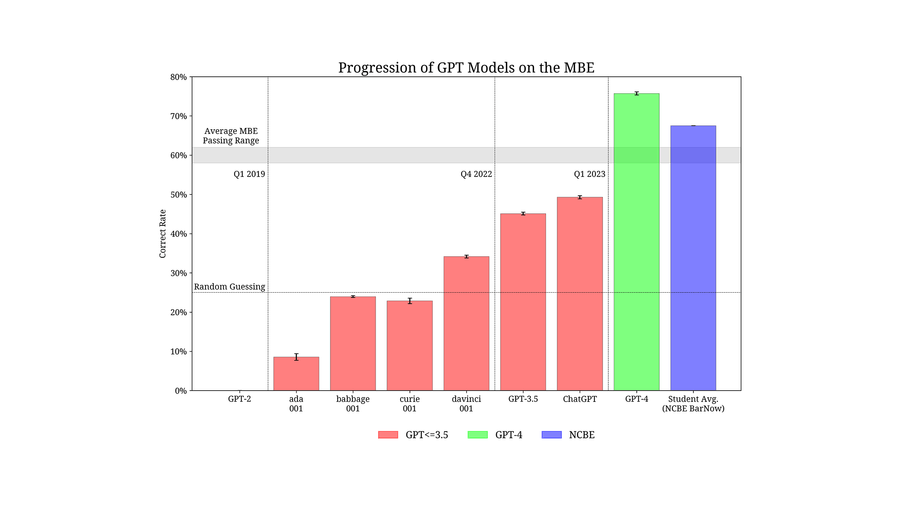 FOR IMMEDIATE RELEASE
Chicago, IL - March 14, 2023
The future of legal services has been reshaped as OpenAI's GPT-4 model successfully passed the Uniform Bar Exam (UBE), according to a study co-authored by Daniel Martin Katz, Chief Strategy Officer, and Michael Bommarito, CEO of 273 Ventures.
This marks a landmark achievement in the evolution of Artificial General Intelligence (AGI), as GPT-4 showed proficiency in all sections of the UBE, including the essay and performance tests. This research builds upon the pair's previous work evaluating GPT-3.5's capabilities in December 2022, further evidencing the rapid advancements in AI.
Katz and Bommarito were astounded by GPT-4's performance. The AI's written essays demonstrate a level of coherence previously thought beyond the reach of machine intelligence.
GPT-4's success in the MPT, where candidates must navigate within a fictional legal framework, showcases the model's nuanced reasoning abilities and potential for commercial applications in the legal sector.
"AGI has enormous potential to revolutionize the delivery and consumption of legal services. This is just the beginning; our findings represent the start of an exciting journey," said Katz.
Their groundbreaking research not only signals a transformative era in legal services but also highlights the increasing capabilities of AGI models. "We aim to demonstrate the future potential of AGI, and our research provides a tangible representation of what's possible with safe and thoughtful engineering," added Bommarito.
ABOUT 273 VENTURES
273 Ventures is a premier advisor in legal technology and AI. With a team of experienced technologists and legal professionals, 273 Ventures helps law firms, legal departments, and legal technology companies navigate the complex landscape of legal technology, providing strategic guidance, training, and solutions to meet their unique needs.
For press inquiries: hello@273ventures.com